The Chrome Pass is a time-limited feature that includes multiple stages, each unlocking various rewards for you as you progress through them.
How does it work?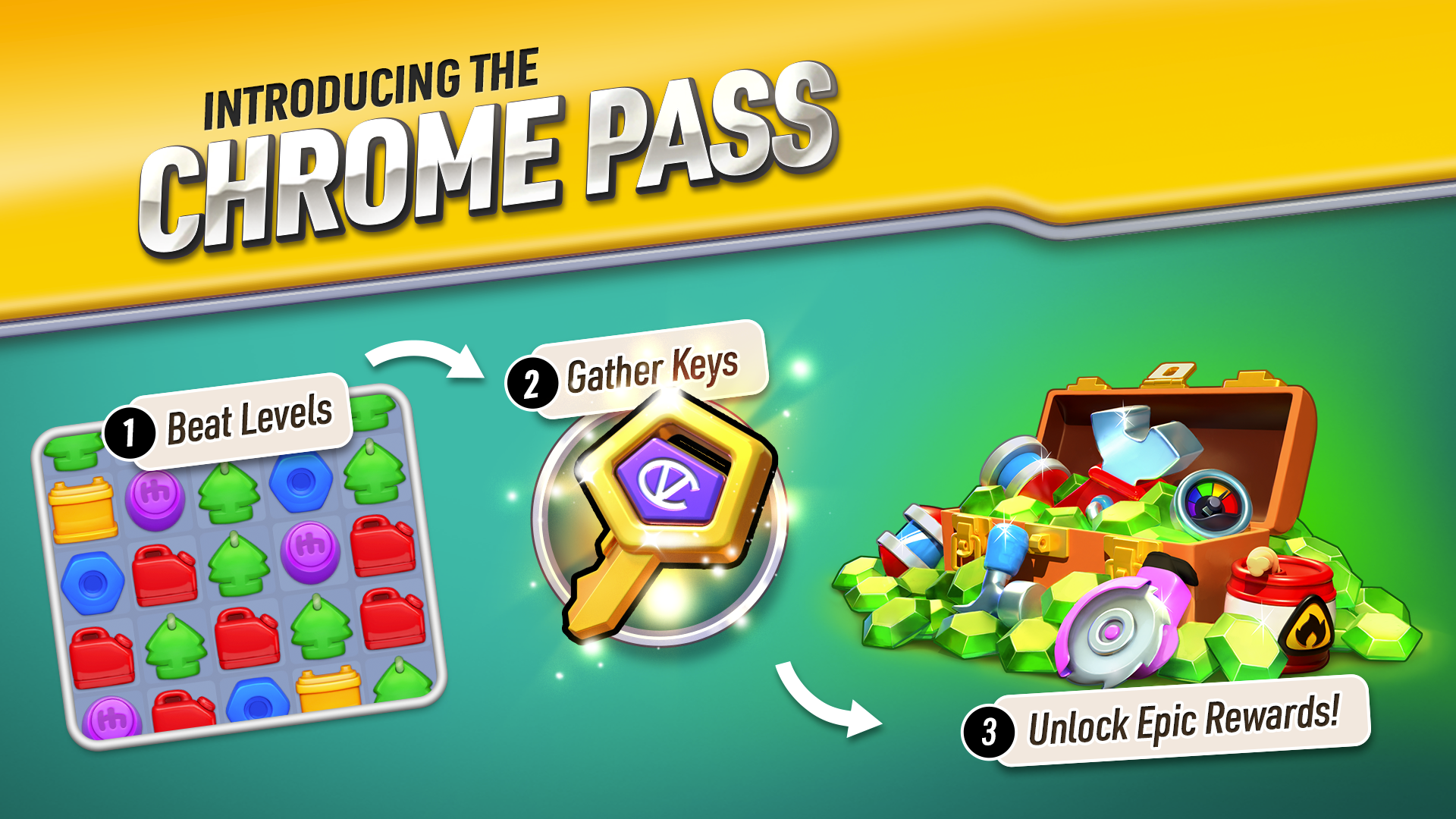 The Chrome Pass becomes available once you reach Level 37, allowing you to begin collecting gold keys

each time you successfully complete match 3 levels.
The number of gold keys you win varies based on the level's difficulty.
| | |
| --- | --- |
| Difficulty | Number of Keys you earn |
| Normal | 1 |
| Hard | 3 |
| Super Hard | 5 |
Make sure to gather as many gold keys

as you can throughout the season to unlock a variety of rewarding prizes!
What rewards does Chrome Pass offer?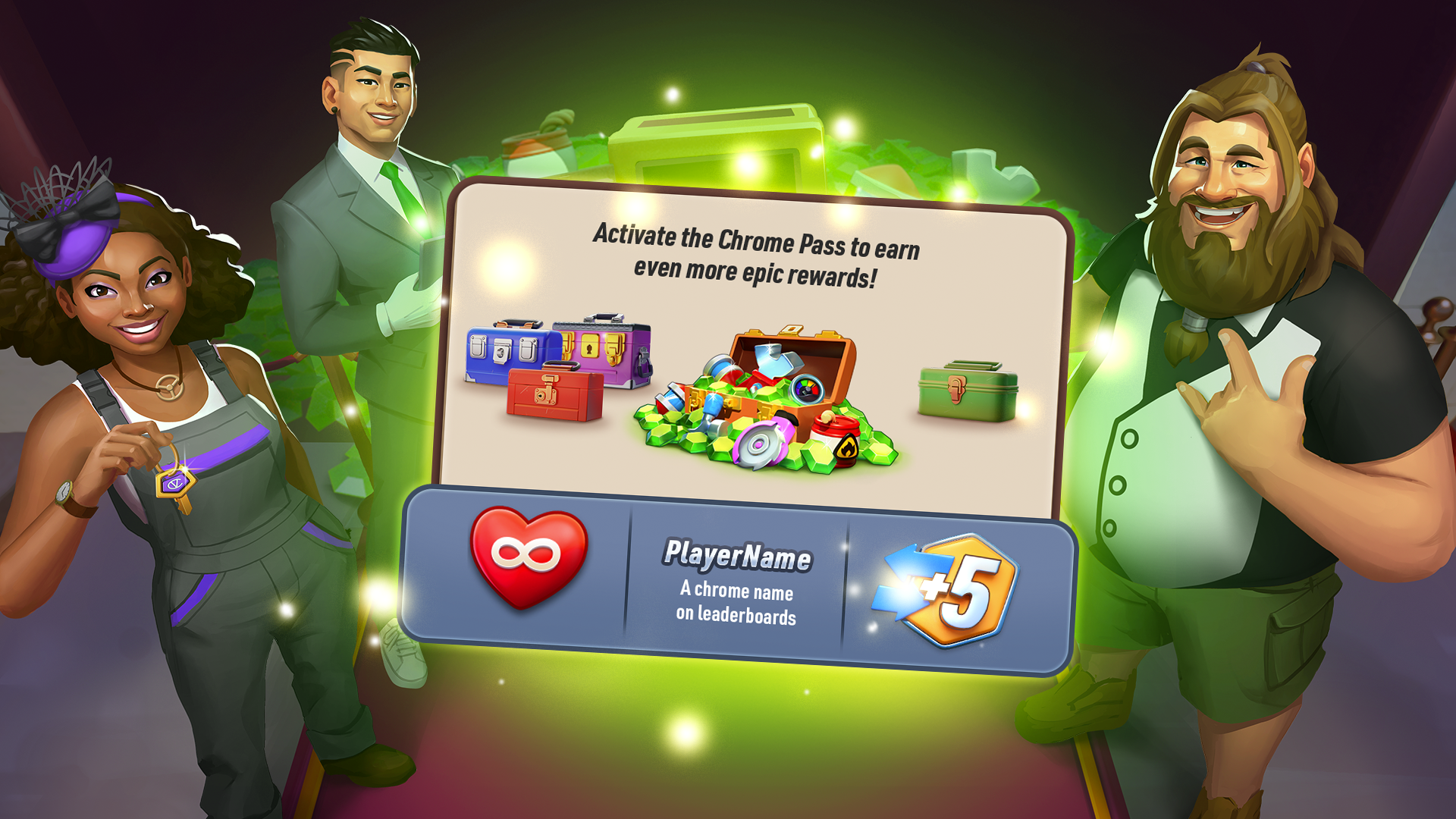 You'll find two versions of the Chrome Pass:
Free: You can grab the free rewards by collecting gold keys and unlocking stages.
Premium: When you activate the premium version of the Chrome Pass, you'll also get a shot at extra rewards!
Here is the list of rewards you can get from the premium version.
Power-ups
Chests packed with boosters and gems!
Plenty of gems
Max lives increased from 5 to 8 until the end of the season
A Chrome name on Leaderboards until the end of the season
One free continue token
Bonus Bank
What is Bonus Bank?
Usually, you wouldn't receive additional rewards once you finish all stages in the Chrome Pass. However, when you activate the Bonus Bank with the Premium Pass, it continues to give you a random item every time you collect a certain number of keys.
Here is the list of items you can get from Bonus Bank
Gems
time-limited Power-up (Rocket, Bomb, Turbo)
time-limited lives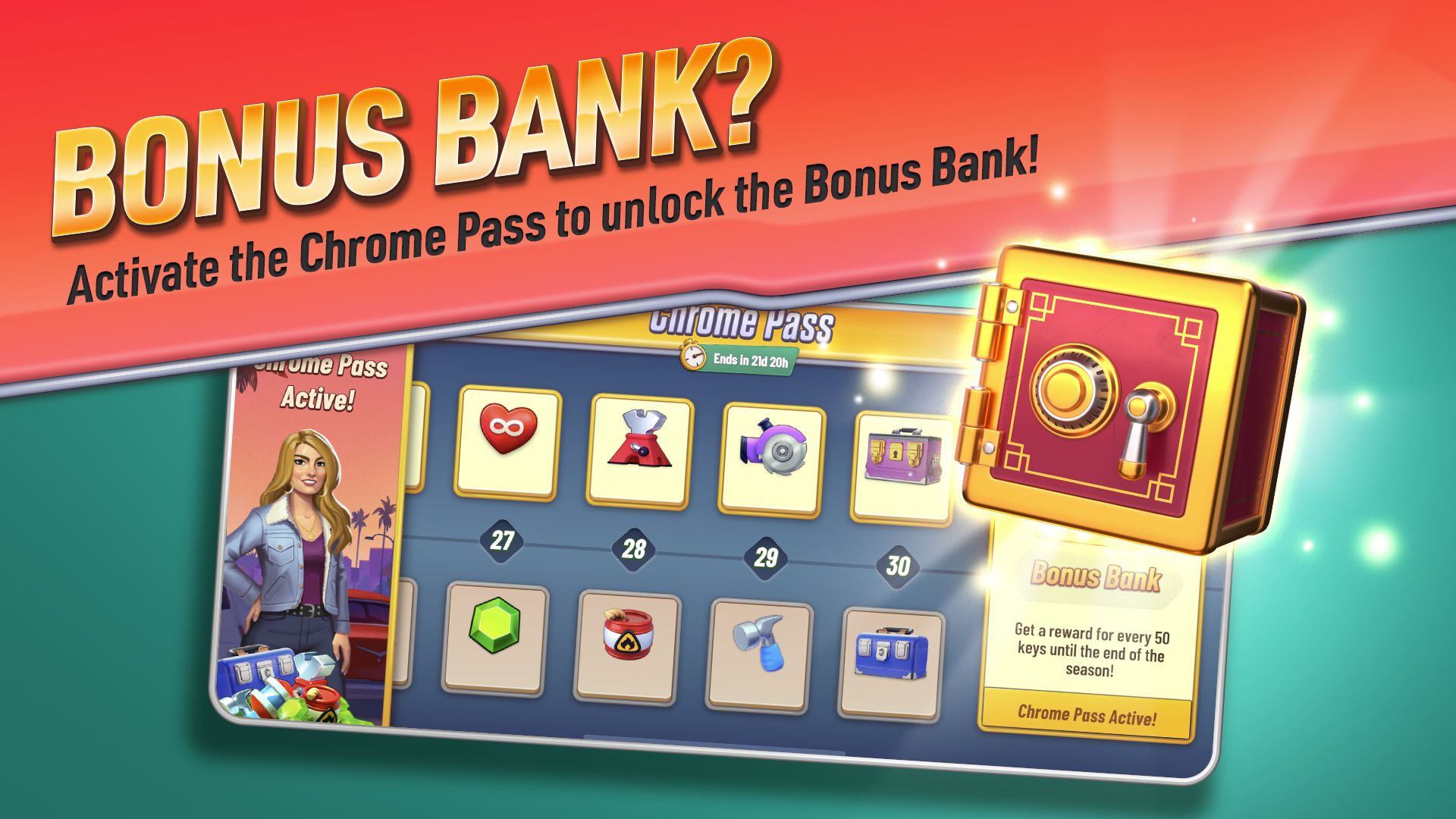 FAQs
Q1: If I activate the premium version halfway through the season, will I still receive special rewards from the stages I've already unlocked?
A1: Yes, you will!
Q2: Can I gather points in the Bonus Bank before activating the premium version?
A2: Of course, you can! And once the Bonus Bank is activated, if you've gathered enough gold keys, you'll be able to receive rewards from the Bonus Bank.
Q3: Will I be able to unlock and receive rewards from the Chrome Pass while playing offline?
A3: Yes.